We would like to let you enjoy our collection here, which we can expand and show through your donations. Of course this is only a limited overview of what we have and can show in our depot, it is therefore always interesting to come back to take a look.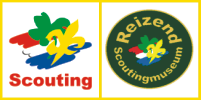 To hear the story behind the object, please contact us or walk into our tent / stand when we are present at an event 
The Website of the Traveling Scouting Museum is very dynamic, and is getting a lot of updates, so please check back regularly to see what we have been able to add to the whole.