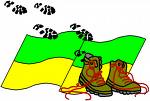 On April 10 and 11, 2021 we will be on the annual Dune March (Duinenmars),at the Machiel Vrijenhoeklaan Kijkduin car parking, with an exhibition.


The Duinenmars is the walking event, organized by and for Scouts and other interested parties. Where for example you can train for the Nijmegen Four Days Marches by walking the 40 km, or with your Cubs-Scouts or other (Scout) groups 5 or 10 km and the next opportunity with friends the 15 or 25 km. And then of course get a medal and take a break on the square where the Traveling Scouting Museum also is located with its tent, or before you going to enjoy your walk come in and take a look. You are verry welcome.
There is always something special to see at our interactive exhibition, where the walking event is certainly also.in the spotlight.